Surroundings of our hotels in Abruzzo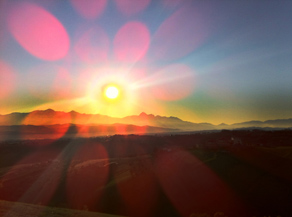 The Abruzzo "Strong and gentle", "Green Region of Europe" is located in the center of the peninsula and is easily accessible for those coming from the north and south as well as by those who come from abroad, thanks to the International Airport D ' Abruzzo. The region is also easily accessible, allowing in less than an hour and a half to go from the highest peaks of the mountains to the blue-green waters of the Adriatic Sea. It is here that you will find one of the most popular seaside hotels in Abruzzo, Hotel Ambasciatori - Pineto, which enjoys a strategic location ( exit of the A14 tollway Atri/Pineto).
It has the privilege of being in one of the most beautiful yet undiscovered regions of Italy. Abruzzo is precisely characterized by a diverse landscape and rich in attractions, with a 133 km shoreline which alternates with beaches and huge golden isolated coves, pine and coastal forests, dunes and cliffs, tall and massive peaks of the Apennines mountains, vast plateaus, wooded ridges, ancient villages rich in art and culture and the long hills demonstrate a fine show of grapes and olive trees ... as well as many, many traditions and a rich, sophisticated wine and gastronomy.
Abruzzo is a region that attracts active tourism throughout the year, as it offers something to both: those who love the sea or to those who prefer the mountains.
Thanks to a strong and lasting snow winter climate, qualified stations and tourist facilities, it is in the Abruzzo mountains,. where you meet the fans of skiing, cross country skiing, dog sledding, ski-mountaineering and snowshoeing.
Among the most famous Abruzzo mountains are: Roccaraso - Rivisondoli, Ovindoli, Campo di Giove, Prati di Tivo, and Passolanciano-Maielletta.
In the summer, the luxuriance nature gives these mountains a completely different attraction.
The rich heritage of trails and routes, also includes hiking and climbing to high altitudes, mountain biking, horseback riding, the possibility of off-road sports by car and motorcycle, as well as flying, and kayaking.
The Abruzzo landscape is also dotted with small jewels scattered everywhere, a sign that the presence of man has successfully integrated with a pristine natural and protected environment.
Along the valleys and hills there are medieval villages, small towns rich in art and ceramics, castles, churches, palaces and true works of art from different periods.
A successful mix that makes Abruzzo one of the most fascinating regions and all to discover the "Bel Paese" Beautiful country.